As a growing oilfield service company, we provide well servicing, well maintenance, and new well productivity exhancement technologies.
Our beam mount gas compressor, THE OPTIMIZER, solves the problem of back pressure on the down-hole oil formation.
To keep up with the needs of our customers, and to assist our mechanics in the field, we carry a full inventory of belts, sheaves, bushings, engine and compressor parts.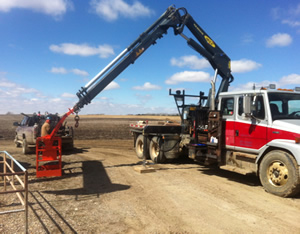 Picker Truck Rental
Our versatile picker truck, with bucket attachment, provides a safe platform from which to service your various high job needs in the Drayton Valley area, Fox Creek, Fort Assiniboine, and Whitecourt regions.
Contact us for rates and to schedule delivery.